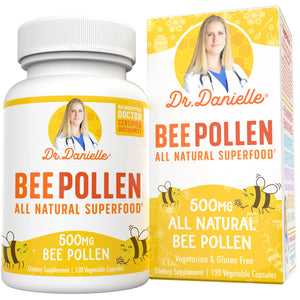 Product image 1

Product image 2

Product image 3

Research
Komosinska-Vassev K, Olczyk P, Kaźmierczak J, Mencner L, Olczyk K.
Bee pollen: chemical composition and therapeutic application. Evid Based Complement Alternat Med. 2015;2015:297425. doi: 10.1155/2015/297425. Epub 2015 Mar 11. PMID: 25861358; PMCID: PMC4377380.
Denisow B, Denisow-Pietrzyk M.
Biological and therapeutic properties of bee pollen: a review. J Sci Food Agric. 2016 Oct;96(13):4303-9. doi: 10.1002/jsfa.7729. Epub 2016 Apr 19. PMID: 27013064.
Yıldız O, Can Z, Saral O, Yuluğ E, Oztürk F, Aliyazıcıoğlu R, Canpolat S, Kolaylı S.
Hepatoprotective potential of chestnut bee pollen on carbon tetrachloride-induced hepatic damages in rats. Evid Based Complement Alternat Med. 2013;2013:461478. doi: 10.1155/2013/461478. Epub 2013 Oct 22. PMID: 24250716; PMCID: PMC3819792.