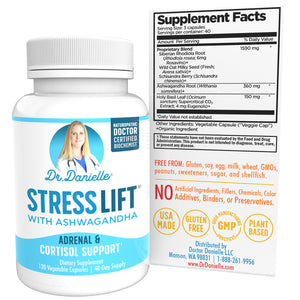 Product image 1
Product image 2

Benefits
Supports healthy cortisol level to adapt with stress
Dr. Danielle's proprietary herbal blend supports your adrenal gland health which regulates cortisol level†. A healthy cortisol level will help you deal with stress and maintain a well-balanced self.
Promotes calm and wellness
Our highest quality ashwagandha root and holy basil leaf extract in this supplement promote calm & wellness.†
Promotes a healthy immune system
Your mental condition, stress level, and fatigue can affect your immune system. This adrenal support supplement promotes a good body response to your stress and problems and thus, helps maintain your immune system.
Supports stress with all-natural ingredients
Stress Lift - Adrenal Wellness® is made with the highest quality ashwagandha root and provides withanolides to stimulate adaptogenic support to enhance adrenal health and support stress naturally.† Non-GMO, pesticide formula.
†These statements have not been evaluated by the Food and Drug Administration. This product is not intended to diagnose, treat, cure, or prevent any disease.
Ingredients
Siberian Rhodiola Root
Rhodiola grows in cold, mountainous regions and has been used throughout time to help with the stress related to high altitudes and cold temperatures. It helps to increase the oxygen-carrying capacity of our red blood cells. Rhodiola root improves your energy, mental clarity, and physical performance. In particular, the rosavins in it help reduce stress. In conjunction, it is also beneficial to our serotonin and dopamine transmitters, which are responsible for making us joyful and happy.
Wild Oat Milky Seed
Oat milky seed helps strengthen the nervous system. It contains calcium and magnesium, which are wonderful nutrients for the nervous tissue. It is particularly good for those who are feeling burned out due to anxiety, fatigue, and depression.
Schisandra Berry
Also known as the "five flavor fruit", schisandra berry helps strengthen the adrenal glands without having a stimulating effect. It acts as a harmonizing tonic to enhance the body's natural resistance, promote overall metabolic efficiency, adapt to stressful influences, and enhance mental clarity. It has also been found to have a positive effect on libido.
Ashwagandha Root
Ashwagandha helps naturally modulate cortisol levels within the body. Known as an adaptogen to maintain balance and manage stress, it helps you feel more refreshed when waking. It also helps restore mood, energy levels and helps you thrive during your day.
FAQ
Why does this adrenal support supplement have such a strong herbal smell?
Our Adrenal Wellness capsule is an all herbal blend. You are most likely smelling the delicious holy basil leaf in our formula.
How long will it take until I feel the benefits?
Results will vary with each individual. This can depend on what benefits you are looking to receive, and a variety of lifestyle factors.
When should I take this adrenal supplement?
Adrenal Wellness capsules can be taken at any time during the day. However, if you would like to have the calming effects from the product for better sleep quality, you can take Adrenal Wellness before bedtime.
Does Adrenal Wellness contain any organic ingredients?
All ingredients inside the capsule of Adrenal Wellness formula are organic. The capsules themselves are not certified organic, but they are vegetarian and vegan and GMO-free.
Can I take Adrenal Wellness with other Dr. Danielle products?
Yes, Adrenal Wellness can be taken with our other products. Please consult with your physician for any questions or concerns.
Should I take Adrenal Wellness if I am pregnant?
As with any dietary supplement, we recommend you consult with your doctor or healthcare provider before taking this adrenal support supplement during your pregnancy.
I was looking for a different adrenal support product. It needed to have quality, high potency ingredients, a good price and not too many pills per serving. Dr. Danielle's product fit the bill! I am on my second bottle and really like that it is only 2 pills a day. I find my energy to be more even throughout the day and resting better at night.
Patti, June 2020
I was taking a different brand of adrenal strength medicine that required more per day. I am extremely drowsy everyday at 2 PM and the only thing that helped was natural adrenal medication. I switched to this one; it took one day for my body to get used to it but now it works just as good, if not better. I'm very glad because it's a lot led money per serving.
Tyler, March 2017
Dosing Instructions
Quantity: 120 capsules (40-day supply)
Dosage: 3 capsules daily
Suggested use: As a dietary supplement, take three (3) capsules daily, with meals.
Research
Narendra Singh, Mohit Bhalla, Prashanti de Jager, and Marilena Gilca
An Overview on Ashwagandha: A Rasayana (Rejuvenator) of Ayurveda. Afr J Tradit Complement Altern Med. 2011; 8(5 Suppl): 208–213
Adriana Nowak, Małgorzata Zakłos-Szyda, Janusz Błasiak, Agnieszka Nowak, Zhuo Zhang, and Bolin Zhang
Potential of Schisandra chinensis (Turcz.) Baill. in Human Health and Nutrition: A Review of Current Knowledge and Therapeutic Perspectives. Nutrients. 2019 Feb; 11(2): 333.
Marc Maurice Cohen
Tulsi - Ocimum sanctum: A herb for all reasons. J Ayurveda Integr Med. 2014 Oct-Dec; 5(4): 251–259. doi: 10.4103/0975-9476.146554