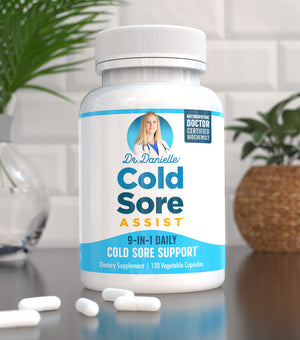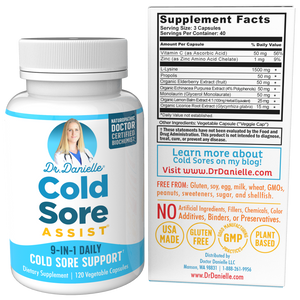 Product image 1

Product image 2
Product image 3

Benefits
Fight Cold Sore Outbreaks
Dr. Danielle's Cold Sore Assist helps you fight against embarrassing cold sores. Take daily (for best results) or begin taking to support a current cold sore outbreak.†
Cold Sore Assist aids the body's immune system to support it against cold sore formations, and helps the body battle current outbreaks.†
Cold Sore Prevention, Created by A Doctor
Dr. Danielle, a biochemist and naturopathic doctor, studied each ingredient to find the effective formula to boost immune system and prevent cold naturally.†
Natural Cold Sore Treatment
By boosting your immune strength, Cold Sore Assist supplement help your body to fight the cold you are having through the vitamins, minerals, and herbs in it.†
All Natural Ingredients, Backed by Science
Using 9 scientifically-studied ingredients, Dr. Danielle has formulated the best cutting-edge daily supplement for cold sore prevention.†
†These statements have not been evaluated by the Food and Drug Administration. This product is not intended to diagnose, treat, cure, or prevent any disease.
Ingredients
L-Lysine
One of nature's secret weapons that is well known for cold sore treatment. Lysine impedes the activity of arginine, an amino acid that promotes the growth of cold sores.
Bee Propolis
A pure and powerful substance created by honeybees which boosts the immune system and wards off the underlying immune deficiencies responsible for cold sores and keeps the cells from replicating.
Elderberry
This natural immunity booster helps to keep your body and defenses strong, decreasing the frequency and likelihood of a cold sore outbreak.
Vitamin C
One of the most commonly known immune boosting vitamins, Vitamin C is great for keeping your body strong in order to keep cold sores from cropping up in the first place.
Echinacea
This popular seasonal defense is a valued immunity boosting supplement.
Monolaurin
Aids your body in maintaining a healthy balance, which helps you mount a strong immune defense.
Lemon Balm Extract
Great for the treatment of early stage care when suffering an outbreak.
Zinc
Zinc is a great immune booster and essential for an optimal immune system function. This mineral helps your body create immune cells, that fight off unwanted intruders. Multiple studies have shown that zinc deficiency can significantly impact your immune system's functions–resulting in an increased risk of being unhealthy during the winter and fall.
Licorice Root
Helps to keep cold sores from replicating and spreading.
FAQ
How does this cold sore supplement work?
With a multi-prong approach, Cold Sore Assist helps to boost your immune system and also offers ingredients which have been scientifically studied to help impede the outbreak and replication of the herpes simplex virus.
Is this cold sore prevention supplement work for children?
It's best to talk to your doctor before giving any person under the age of 18 a dietary supplement.
Why did Dr. Danielle select the ingredients in Cold Sore Assist?
Dr. Danielle selected ingredients that have been shown by studies to help cold sores, as well as her own experience treating patients as a naturopathic doctor.
Should I take Cold Sore Assist when I am having cold sore?
Yes, you should take Cold Sore Assist when you are having cold sore. This cold sore supplement works for preventing as well as treating cold sore. By supporting your immune system, you can recover more quickly.
Do I need to take an extra Vitamin C supplement on top of Cold Sore Assist?
No, you get more than your daily value of vitamin C from Cold Sore Assist. Vitamin C can be taken until bowel tolerance.
Is this cold sore prevention supplement vegan and gluten free?
Cold Sore Assist is gluten-free. Propolis is a bee product, made by honeybees. Some consider this to be vegan, while others prefer a more strict definition of what is vegan. For our vegan plant-based immune support supplements, please check out Elderberry Immune Assist and Adaptogenic Mushroom Immune Assist
Can you tell me more about L-Lysine in preventing cold sore?
Lysine helps block the absorption of arginine, it indirectly hinders the HSV-1 replication process. There's even evidence of this. According to a 1987 study, supplementing with lysine tablets can reduce the frequency of herpes simplex virus outbreaks and their severity. Lysine can also help cut down on healing time!
Should I take Cold Sore Assist if I am pregnant?
As with any dietary supplement, we recommend you to consult with your doctor or healthcare provider before taking this naturopathy liver support supplement during your pregnancy.
Dosing Instructions
Quantity: 120 capsules (40-day supply)
Dosage: 3 capsules per day
Suggested Use: Adults take three (3) capsules each day with a glass of water, on an empty stomach.
Research
R. S. Griffith, D. E. Walsh, K. H. Myrmel, R. W. Thompson, A. Behforooz
Success of L-lysine therapy in frequently recurrent herpes simplex infection. Treatment and prophylaxis
C. E. Isaacs, K. S. Kim, H. Thormar
Inactivation of enveloped viruses in human bodily fluids by purified lipids
Huleihel M, Isanu V
Anti-herpes simplex virus effect of an aqueous extract of propolis.