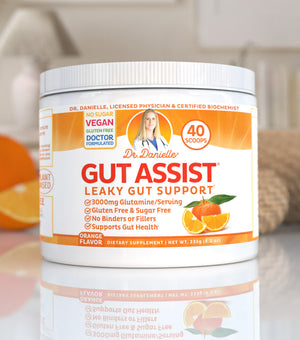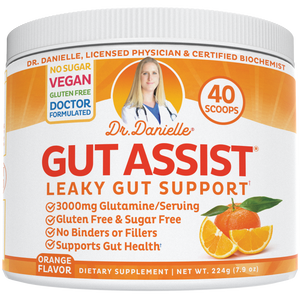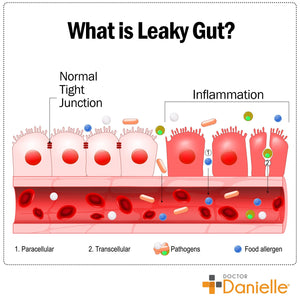 Product image 1

Product image 2

Product image 3

Product image 4

Product image 5

Product image 6

Product image 7

Product image 8

Benefits
Superior gastrointestinal support
Supports the mucosal lining of the gastrointestinal (GI) tract
Helps to promote gut microflora
Arabinogalactan is a natural ingredient derived from the larch tree, and this polysaccharide lends outstanding support for GI health.
The aloe vera leaf extract in Gut Assist has been treated to eliminate the bitter taste and prevent this ingredient from having a laxative effect.
No side effect related to licorice
This exceptional gut health formula offers a specialized extract of licorice which has been specially treated to eliminate glycyrrhizin, thereby decreasing the side effects related to licorice.
FAQ
How does GutAssist work for leaky gut?
GutAssist supports the healing of the body's protective membranes along the GI tract, giving these membranes nutrients like L-Glutamine to thrive and heal.
What exactly is Leaky Gut?
Leaky gut is a condition involving increased intestinal permeability. This digestive condition allows bacteria and toxins to "leak" through the intestinal wall. This can cause pervasive inflammation and conceivably trigger a reaction from the body's immune system.
Who should take GutAssist?
Anybody who cares about the health of their gut and GI tract. GutAssist is a holistic supplement that helps strengthen the GI tract from everyday exposure to stressors, pollutants, and contaminants.
Does the aloe vera have a laxative effect?
No, our aloe vera has been treated so you will not get the laxative effects commonly associated with taking aloe.
Does your licorice have side effects?
Our licorice has been specially treated to eliminate glycyrrhizin, thereby decreasing many of the side effects related to licorice.
Should I take GutAssist if I am pregnant?

As with any dietary supplement, it is important to ask your doctor or healthcare provider prior.
I had been having gassy and painful stomach before I decided to purchase the product to give it a try. I'm a loyal customer of Beewise, so when they introduced Gut Assist, I went ahead and bought the product. I liked the taste of Gut Assist and the powder is easy to dissolve. along with taking the product, I also reduced the portion of my each meal. After about one week taking it, my upset stomach actually stopped hurting and My stomach didn't feel so extended. It is still too early to tell the full and sustained effect of Gut Assist, but so far I'm pleased with it. Although my review is still premature, my goal is to continue the product for 6 months and then I'll provide more confident and solid feedback.
Yumi, May 2020
Have been using Gut Assist for a little over 2 weeks now. I have found the product to actually have a pleasant taste. It mixes well with water so ii is not clumpy when you drink it down. Since it's only been 2 weeks it's a little too soon to tell if it is helping my gut to heal it self. But seeing all the good natural products it contains I am confident that by the time I finish the container I will be feeling. better. I have experienced no stomach cramping or discomfort whatsoever.
Gary, May 2020
Dosing Instructions
Mix one scoop in 4-6 ounces of water once daily, or as directed by your healthcare practitioner.
Research
RadhaKrishna Rao & Geetha Samak
Role of Glutamine in Protection of Intestinal Epithelial Tight Junctions. J Epithel Biol Pharmacol. 2012 Jan; 5(Suppl 1-M7): 47–54.
Fujita T, Sakurai K.
Efficacy of glutamine-enriched enteral nutrition in an experimental model of mucosal ulcerative colitis. Br J Surg. 1995 Jun;82(6):749-51.
Prescott, Bonney
Glutamine supplements show promise in treating stomach ulcers. The Harvard Gazette. May 15, 2009