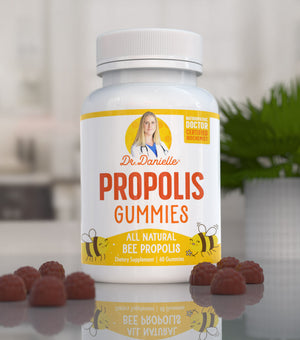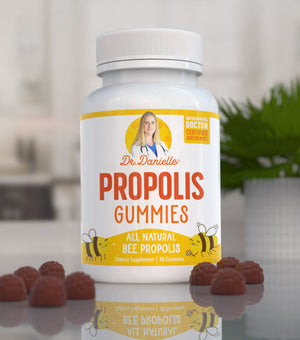 Product image 1

Product image 2

Product image 3

Benefits
Provides Vital Nutrients to Your Body
Propolis is a natural superfood supplement that contains valuable vitamins, minerals, and nutrients.
Propolis: The Centuries Old Remedy
Our ancestors have been using bee propolis long before modern science discovered the potential benefits. The use of this naturally-produced, sticky substance is said to date back to the time of Aristotle (circa 350 B.C.).
Made in the USA in GMP-Certified Facilities
Dr. Danielle products are made in the USA, in GMP facilities. The company offers physician-quality supplements that are highly used by both Naturopathic doctors and customers who want the very best.
Highest Quality Propolis in the Industry
You can be assured that when you buy a Dr. Danielle product, you are getting a cutting-edge formulation developed by a biochemist/naturopathic physician and her team of scientists.
Ingredients
Organic Sugar
We use the finest Organic Cane Sugar. There are no artificial sweeteners here!
Organic Tapioca Syrup
All natural and organic ingredients: exactly what you would expect from Dr. Danielle!
Propolis
Propolis (also known as "bee glue") is a resin mixture made by honey bees. Bees produce propolis by mixing their saliva with plant matter. Propolis is used by bees as a sealant for undesired gaps and cracks in their hive walls.
All Natural Gummies
All natural gummies made with organic ingredients.
FAQ
I am allergic to bees. Should I take Proplis?
Taking bee products such as Propolis can cause severe allergic reactions. Check with your doctor before using it if you have any concerns about having a reaction.
Why is my Propolis is a different color than last time?
Honey bees are opportunists, collecting their pollen from whatever sources are available at the time. The composition of bee products differs from beehive to beehive, from region to region, and can also vary based upon the time of year. It can vary from color to color; dark brown to green, red to black, depending on the particular hive.
Where is your Propolis sourced from?
The ingredients in our Propolis are sourced in the United States. All Doctor Danielle products are made in the USA in GMP Certified facilities audited by the FDA.
Are Propolis gummies okay to take on an empty stomach?
You can take on an empty stomach or with a meal, whichever you prefer.
How many Propolis should I take every day?
Our suggested use is 2 gummies per day, however, if you have additional concerns please talk to your health care provider.
Should I take Propolis if I am pregnant?
As with any dietary supplement, we recommend that you consult with your healthcare provider before taking this bee supplement during your pregnancy.
I do not like taking vitamins and yet I understand the need. I researched alternatives to taking a handful of pills daily. I came across Bee Pollen, Propolis, and Royal Jelly. They are considered a superfood and "nutritional powerhouse" because of the vitamins, minerals, etc. I take BeeWise daily. I have noticed once very brittle finger nails are now stronger, my hair is shiny and my skin glows. I feel good! I am very particular about the brand which is why I purchased Bee Wise.
Laura, December 2017
Love bees and their jelly benefits :) I been taking for a year now mainly for my knee and joint pain I dance for a living so this helps me a lot and I've noticed my skin improved so much over time I don't always feel pressured to put make up so much anymore:) I always recommend these to girls who would appreciate it :)
Brianna, July 2017
Dosing Instructions
Quantity: 60 gummies Dosage: 2 gummies daily Suggested use: Take two (2) gummies each day.
Research
Crişan I, Zaharia CN, Popovici F, Jucu V, Belu O, Dascălu C, Mutiu A, Petrescu A.
Natural propolis extract NIVCRISOL in the treatment of acute and chronic rhinopharyngitis in children. Rom J Virol. 1995 Jul-Dec;46(3-4):115-33. PMID: 9179964.
Simona Martinotti & Elia Ranzato
E. Propolis: a new frontier for wound healing?. Burn Trauma 3, 9 (2015).
Vijay D. Wagh
Propolis: a wonder bees product and its pharmacological potentials. Adv Pharmacol Sci. 2013;2013:308249. doi: 10.1155/2013/308249. Epub 2013 Dec 9. PMID: 24382957; PMCID: PMC3872021.