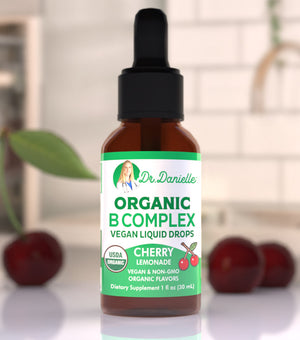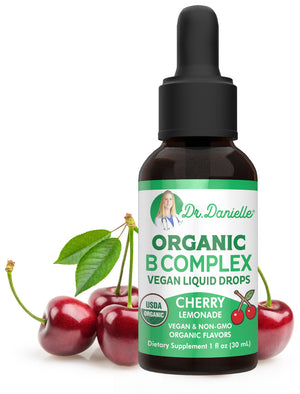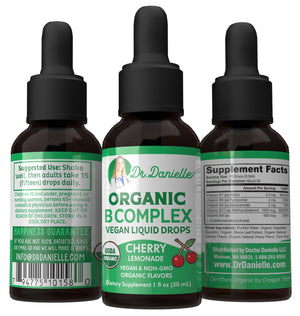 Product image 1

Product image 2

Product image 3

Product image 4

Benefits
USDA Organic B Complex Tincture: including

B3, B6, B7, B9, and B12 (as Methylcobalamin), our

B-Complex spray was formulated with a delicious cherry-lemonade flavor the whole family will love.
Vegan/Vegetarian Formula:

Vegans and vegetarians in particular may not consume enough B vitamins naturally, and supplementing can be an important way to get an adequate supply.
Delicious and Easy Liquid Tincture: w

ith organic cherry and lemonade flavors—it's the perfect combination of sweet and tart.
Certified USDA Organic: Only the best B-vitamins for your family. Vegan, free from common allergens, plant based, dairy free, Nut Free, Gluten and Wheat Free, Nightshade free, sugar free
Best-in-Class B Vitamin Solution: 1 fl. oz., 60 Day Supply
Ingredients
Vitamin B7 (as Biotin)
B7 has been shown to improve metabolism (for higher energy levels). Biotin supports several enzymes involved in the breakdown of carbs, fats, and proteins. In other words: like all B vitamins, it helps your body convert food into energy. Promote hair, nail, and skin health: The more energy your body gets, the better it'll be able to produce keratin and fatty acids—two essential components of healthy hair, nails, and skin. Biotin deficiency is linked to skin rashes, brittle nails, hair thinning, and loss.
Vitamin B6 (as Pyridoxine)
B6 has been shown to reduce heart disease risk: Research shows that vitamin B6 could help decrease elevated homocysteine levels associated with several disease processes, including heart disease. According to a randomized controlled trial published in Lancet, for instance, participants who'd received 250 mg of vitamin B6 every day for two years had lower homocysteine levels and fewer abnormal heart tests during exercise than those who'd received the placebo group—putting them at an overall lower risk of heart disease.
Vitamin B3 (as Niacinamide)
B3 supports the regulation of energy production: although niacinamide plays many vital roles in your body, one key responsibility is to synthesize the coenzymes NAD and NADP, which are involved in over 400 biochemical reactions in your body—mainly related to converting the food you eat into energy. Supports beautiful skin: research shows niacinamide helps protect skin cells from sun damage. According to a 2015 study published in The New England Journal of Medicine, individuals at high risk of skin cancer who supplemented with niacinamide twice daily reported reduced rates of nonmelanoma skin cancer compared to those who didn't.
Vitamin B12 (as Methylcobalamin)
Vitamins B12 can promote healthy red blood cell production. It plays a crucial role in the production of red blood cells. A deficiency in this vitamin thus impairs red blood cell output, inducing megaloblastic anemia, causing symptoms like fatigue, difficulty concentrating, clumsiness, and dry skin. Support a healthy nervous system: Vitamin B12 helps produce a substance called myelin, a protective coating that shields your nerves and helps them transmit sensations. Thus, if you have low vitamin B12 levels, your nerves may be more susceptible to damage because of inadequate "coating". You may then experience tingling hands or feet (i.e., peripheral nerve damage) and trouble walking.
FAQ
How should I take this B Complex tincture?
Depending on your preference, you could use the dropper to deposit the dose right into your mouth or mix it into your favorite drinks.
Is this Vitamin B complex vegan?
Yes! Dr. Danielle only uses vegan and organic ingredients to make her B Complex.
How long will it take to feel the benefits of Vitamin B Complex?
Results will vary with each individual. This can depend on what benefits you are looking to receive, and how progressed your symptoms or illness may be.
Don't worry. It's delicious. B Complex Tincture is naturally flavored with organic cherry and lemonade flavors—it's the perfect combination of sweet and tart. How refreshing.
Is it safe for kids and pregnant or nursing women?
B Complex Tincture has not been tested for safety in the populations above. So do consult a healthcare professional if you're unsure of its suitability for you. That said, as mentioned earlier, people who are trying to conceive or are pregnant may benefit from a higher intake of B vitamins.
This product is the best that I have tried for my peripheral neuropathy. It is gentle on the stomach and has been a major help to my nerve issues. I highly recommend this product. It is sensational and will work if your issue is nerve health.
Al S
I decided to try Dr. Danielle's Alpha Lipoic Acid based on reviews attesting to it's ability to relieve pain. A year ago I had an extremely painful injection of cortizone for plantar faciitis in my right foot. The cortizone did alleviate the plantar pain, but within months I was experiencing what felt like cycles of nerve related pain in other areas of the same foot. As I'm currently pursuing the true cause of this pain, I experienced pain relief within the first week of taking Dr. Danielle's Alpha Lipoic Acid--taking 300 mg in the morning and another 300 mg in the evening. According to what I have read, 600 mg a day is considered the maximum dose. I can honestly say that this product has greatly improved my quality of life!
Melissa
Dosing Instructions
Shake well, then adults take 15 (fifteen) drops daily.
Research
Paul C, Brady DM.
Comparative Bioavailability and Utilization of Particular Forms of B12 Supplements With Potential to Mitigate B12-related Genetic Polymorphisms. Integr Med (Encinitas). 2017 Feb;16(1):42-49. PMID: 28223907; PMCID: PMC5312744.
Amanda M Henderson, Rika E Aleliunas, Su Peng Loh, Geok Lin Khor, Sarah Harvey-Leeson, Melissa B Glier, David D Kitts, Tim J Green, Angela M Devlin
L-5-Methyltetrahydrofolate Supplementation Increases Blood Folate Concentrations to a Greater Extent than Folic Acid Supplementation in Malaysian Women, The Journal of Nutrition, Volume 148, Issue 6, June 2018, Pages 885–890
Vermeulen EG, Stehouwer CD, Valk J, van der Knaap M, van den Berg M, Twisk JW, Prevoo W, Rauwerda JA.
Effect of homocysteine-lowering treatment with folic acid plus vitamin B on cerebrovascular atherosclerosis and white matter abnormalities as determined by MRA and MRI: a placebo-controlled, randomized trial. Eur J Clin Invest. 2004 Apr;34(4):256-61. doi: 10.1111/j.1365-2362.2004.01332.x. PMID: 15086356.