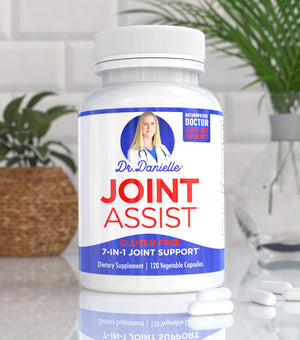 Product image 1

Product image 2
Product image 3
Product image 4
Product image 5
Benefits
Enhanced Mobility and Flexibility
Say goodbye to stiffness and limited range of motion. Dr. Danielle's Joint Assist is specifically designed to enhance mobility and flexibility, allowing you to move freely and engage in daily activities with ease. Whether you're an athlete looking to improve performance or an individual seeking relief from joint discomfort, this supplement can help you achieve your goals.
Natural Ingredients, Optimal Results
We believe in the power of nature, which is why Dr. Danielle's Joint Assist is made with a carefully selected blend of natural ingredients. Each ingredient is chosen for its unique properties in supporting joint health, including turmeric, boswellia, ginger, and hyaluronic acid. This natural approach ensures optimal results without the worry of harsh side effects.
Comprehensive Joint Care
Dr. Danielle's Joint Assist provides comprehensive care for your joints. It not only supports the structural integrity of your joints but also helps to maintain healthy connective tissues and reduce oxidative stress. By nourishing your joints from within, this supplement aims to provide long-term joint health benefits.
Quality You Can Trust
When it comes to your health, quality matters. Dr. Danielle's Joint Assist is manufactured in the USA in a facility that follows strict GMP (Good Manufacturing Practice) guidelines. Each batch is tested for purity and potency, ensuring that you receive a safe and effective product that you can trust.
Easy-to-Swallow Capsules
Taking care of your joints should be easy and convenient. That's why Dr. Danielle's Joint Assist comes in easy-to-swallow capsules. Simply take the recommended dosage with water, and you're on your way to supporting your joint health.
Ingredients
Glucosamine Sulfate
Glucosamine sulfate is a compound naturally found in the body and is an important building block for the synthesis and maintenance of cartilage, which cushions the joints. It plays a vital role in maintaining joint health and has been widely studied for its potential benefits in managing joint-related conditions such as osteoarthritis. Glucosamine sulfate supplementation has been shown to support joint function by promoting cartilage repair and reducing joint inflammation and pain.
MSM (Methylsulfonylmethane)
MSM is a naturally occurring sulfur compound that is often combined with glucosamine and chondroitin in joint health supplements. It provides sulfur, an essential component for the synthesis of collagen, a major structural protein in joints, tendons, and ligaments. MSM is known for its anti-inflammatory properties, which can help alleviate joint pain and swelling. It may also aid in the repair and maintenance of connective tissues, promoting joint flexibility and mobility.
Chondroitin Sulfate
Chondroitin sulfate is a component of cartilage that helps maintain its elasticity and ability to absorb shock. It works synergistically with glucosamine to support the structure and function of joints. Chondroitin sulfate has been shown to inhibit the enzymes that break down cartilage and promote the production of collagen and other components necessary for healthy joint tissue. It may also have anti-inflammatory properties, further contributing to joint health by reducing pain and swelling.
5-Loxin® Boswellia Serrata
5-Loxin® is a standardized extract derived from the resin of Boswellia serrata, a tree native to India. It contains high levels of boswellic acids, which have been studied for their anti-inflammatory effects. Inflammation is a common contributor to joint pain and stiffness, particularly in conditions such as osteoarthritis. 5-Loxin® has been shown to inhibit the production of pro-inflammatory enzymes, reducing joint inflammation and improving overall joint comfort. It may also help support joint flexibility and mobility.
FAQ
When should I take Joint Assist?
It doesn't matter if you take Joint Assist on a full or empty stomach. Ultimately, you should take Joint Assist whenever it's easy and convenient for you. Find a time of day where you can easily fit the capsules into your routine (e.g., pairing it with your breakfast) because any supplement works best when you take it consistently.
How long till it works?
Well, that depends on what you hope to achieve with Joint Assist. If you're looking to boost joint health, then it's arguable that Joint Assist is effective immediately: the moment you consume the capsules.
On the other hand, if you're looking for osteoarthritic pain relief, it may take anywhere between 12 weeks to a few years. And while that may seem awfully long, remember that it's a non-invasive and natural way of pain relief.
Is it safe for kids and pregnant or nursing women?
Joint Assist has not been tested for safety in the populations mentioned above. As with all supplements, it's always a wise idea to first consult a healthcare professional before starting on Joint Assist.
I ordered this product because I had injured my knee at work and after weeks of living on Aleve, I was getting no relief from the pain and stiffness. This product claiming to relieve joint inflammation got my attention. After about 7 days of taking 2 capsules a day, I can honestly say my knee is about 85% better. I'm going to continue taking this supplement and hope I'll regain total movement of my knee.
Taylor
I have been diagnosed with psoriasis. and has been taking turmeric from Dr. Danielle the past months. not only for my joints but this product has greatly help in fighting my psoriasis flare ups. This has help in strengthening my immune system.So far no more flare ups but I will still continue to take this supplement now and in the future. Highly recommends this product from Dr. Danielle.
Norman
Dosing Instructions
Quantity: 120 capsules (30-day supply)
Dosage: 4 capsules daily
Suggested use: Adults take four (4) capsules prior to a meal, or as a recommended by your healthcare professional.
Research
Melissa Yang, Umair Akbar, and Chandra Mohan
Curcumin in Autoimmune and Rheumatic Diseases. Nutrients. 2019 May; 11(5): 1004.
Reginster J, Dudler J, Blicharski T, et al
Pharmaceutical-grade Chondroitin sulfate is as effective as celecoxib and superior to placebo in symptomatic knee osteoarthritis: the ChONdroitin versus CElecoxib versus Placebo Trial (CONCEPT). Annals of the Rheumatic Diseases 2017;76:1537-1543.
Xu G, Zhou T, Gu Y, Wang Q, Shariff M, Gu P, Nguyen T, Shi R, Rao J.
Evaluation of the Effect of Mega MSM on Improving Joint Function in Populations Experiencing Joint Degeneration. Int J Biomed Sci. 2015 Jun;11(2):54-60. PMID: 26199577; PMCID: PMC4502733.